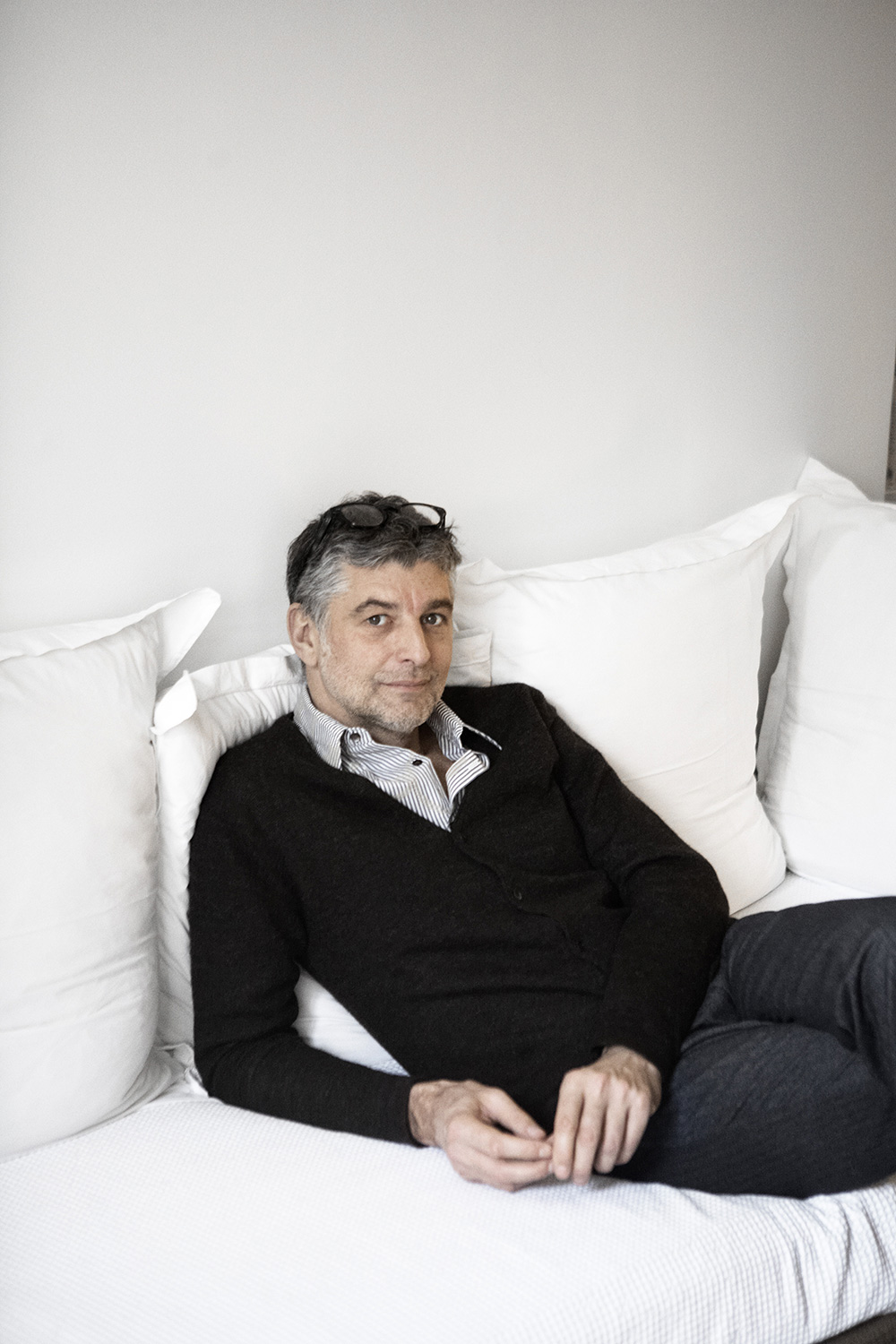 Interior Designer – Designer and Art Director – Creator and Manager of EGA

Event 2005: Eric Gizard is Designer of the Year at Maison & Objet, along side of Mrs. Andree Putman

Free lance from 1987 to 1998

Nelly Rodi Style Office – UNIFA and VIA "Trends Notebook" creation -1989/1994

Responsible for the design section of CITY MAGAZINE – 1985/1990

Architecture Agency B.E.D – documentalist 1984/1986

Architecture Agency MICHEL BOYER – documentalist – 1984/1986

School of Applied Arts Duperré – Paris 1982/1984
Eric Gizard is flamboyant and discreet, refined and reasonable; his work is thoughtful and new populated with intuition and daring, without ever turning flashy.
Andrée Putman
Eric Gizard draws his inspiration and his references in the Contemporary Decorative Art .
Passionate about his time without denying the past, he intervenes on very diversified subjects by providing very personal solutions, always marked by a style original. Contrasts affirmed, telescoping in the use of materials and colors, work on "chiaroscuro", a wise mix of tradition and modernity are his features identity.
Attentive explorer of the styles of the world, his field of action leads him to intervene on a great variety of projects: apartments and ready-to-wear boutiques in Japan, a pastry shop in Korea, a Jean Patou shop in Paris, a house in particular in London, the commercial environment of the cosmetics brand Asian SK-II in Asia, hotel projects in Europe or Salons and harmonies Cabin Air France aircraft around the world.
This assertive taste for encounters and eclecticism led him to develop an activity in the design by creating simple forms, responding to principles contemporary of lightness, fluidity and readability. In parallel with the creation of lines of furniture for First Time, he is currently working on the creation for Hermès, light design, objects and tableware for the Cristalleries Saint-Louis.
Interventions by Eric Gizard, we retain above all an impression of elegance and harmony. He designs architectures to live, be they private residences, hotels starred, or luxury shops that you do not want to leave without knowing why. Until we find the detail. This audacious trace thanks to which we know without fail that it can only be about him, the element that will give him instead his own identity without betraying grace. This elegance of which we have just congratulated, makes it almost uncertain the reassuring balance that one seeks in each new discovery.
So beyond the general impression, we pay attention to these amazing footprints and refined, distilled both in the places he creates and in the objects he draws. Sometimes it's the graphics of a floor or ceiling that introduces the shift in the visual field, sometimes it's a glass cladding that was thought to be lacquer, or again, it is the deformed geometric pattern in the center of a crystal plate.
Eric Gizard likes to spare surprise without giving way to ostentation. It warms the contemporary contrasts unexpected contrasts, and organizes the light according to the shadows. For him, Tanizaki's reader, they say as much as the silences in the conversations. When he takes on his role as a designer, he is found on the same thread, in a balance inspired by his French culture of decorative arts and its creative originality, unravelling draw the object that will testify to his taste for simple and fluid forms, obvious and however unpublished.
Passionate about photography and contemporary decorative arts, Eric Gizard pays attention particular to the effects produced by his own compositions: while proposing places perfectly reflecting their primary function, he knows how to make room for spontaneity of those who will come after his departure, without ever creating a vacuum or hindering movements of life. Visionary and talented director, it is by breaking the expected rhythms that he guides the desires of his customers.
Design Manager at City Magazine International
1989/2018 MAIN PROJECTS INTERNAL ARCHITECTURE
Development of the concept HABITAT DECO downtown (Paris)

Siege SNCF. Conception and realization of the Presidential spaces and the Council Room

Design and realization of the Ile de France Tourism Area at the Louvre Caroussel

Design and realization of the CFC DAUM Flagship Rue de la Paix. Paris

AIR FRANCE. Design and realization of new Harmonies Cabin planes (1999/2007) to the A380 interior design. Design and development of lounge spaces around the world for the company

JEAN PATOU PARFUMS. Conception and realization of the new Parisian Flagsip concept Castiglione. Paris

ACCOR group. Design and construction of hotels for the Group

PRINTEMPS (department store). Design and realization of the Deauville department store

SKII. Japanese cosmetic brand. Conception and realization of the whole universe architectural brand for 5 years.

Development of Architectural Projects and Design in China(2005/2018)
COLLABORATION AND DESIGN DEVELOPMENT FOR DIFFERENT FRENCH BRANDS
CRYSTALLERY OF SAINT LOUIS

PERIMETER EDITION (Córdoba leather collection, 17th century motif, Maison Tassin)
CREATOR OF THE YEAR AT MAISON & OBJETS 2005. Alongside Andrée Putman
For the small manufacture of CUIR AU CARRE

JAMES 1840
2014 Exhibition at Galerie ALB antiquities
ollection of furniture and lighting in Auto Edition and first photographic exhibition 2015
2015 AD COLLECTION. Presentation of the MOON collection realized in collaboration with the House Simon Marq (stained glass) and Maison Pouenat (metal)
2016 AD COLLECTION. Presentation of the Shan lamp (brass and white onyx) made by ASTROPOL
2017  "No. 1 Series" photographic exhibition at the Eic Gizard Gallery
2018 "Objects Found" photographic exhibition at Eric Gizard Gallery
Eric Gizard, Architect of Balance. It is one of the most requested creators of the moment. He favors fluidity, comfort and consistency.
PROPERTIES OF FRANCE. Catherine Deydier
Eric's work is a mix of tradition and modernity, the look is young, modern and funny, modern and offers an ideal lifestyle.
HOUSE & GARDEN , Dominic Bradbury
The taste of the present.
Brico design
Eric Gizard, the marriage of daring and modernity FRENCH HOUSE.
MAISON FRANCAISE, Véronique Blamont
Hidden silences. The Parisian decorator knows what traveling means: he created VIP lounges for Air France. His first London house in Notting Hill is another surprise AD France.
AD France , Suzanne Trocmé
Long live difference. French and English, old and new, minimal and whimsical, Eric Gizard does not like nothing more than contrasts.
THE OBSERVER, Dominic Lutyens
Praise of elegance. The modesty of the architect who masks the complexity of his work highlight that the products of the Daum shop rue de la Paix in Paris is a testimony elegance.
SUNDAY'S DIARY, Cécile Papapietro-Matsuda
Andrée Putman chose Eric Gizard to embody on these sides the ten years of the Maison & Objet show.
Game of materials, that he arranges the cabins of Air France, shops, private apartments or he creates furniture and carpets, eric Gizard, creator of the year 2005 of M & O does not finish to gently impose the imprint of its lightness.
FASHION DAILY NEWS Catherine Abet
Andrée putman and Eric Gizard, creator of the year. Awarded at Maison & Objet, these two designers share some idea of elegance.
The EXPRESS MAG
Eric is someone who does beautiful things that I do not know how to do. I like that as much as our reports are not polluted by flattery. He is neither a disciple nor a pupil. However, there is no of coincidence when we stop at someone's work. There are evidences that do not have need to be said, like his austere handling of colour with a use of hues clear guests in his work by refined little strokes. Or its particularly intelligent dosage space: large, empty and spacious rooms, without abuse. I really like this idea that ornament be distributed stingily.

That things are wonderfully rare and grouped like small archipelagos.
ARTRAVEL, Andrée Putman
Eric Gizard, the luxury of the invisible.
STEINER TRENDS